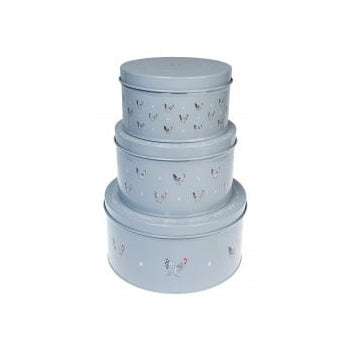 Sophie Allport Decorative Chicken Tins
can you buy topamax over the counter in dubai Made from galvanized steel this set of three Chicken Cake Tins is the perfect storage solution for those cakes, biscuits, cheese crackers and other tasty goodies! They will making a stylish statement on your work surface and perfect in any country kitchen. A great gift for any baking enthusiast!
best buy Seroquel Speckled Maran hens cover the tins with a different design on the lid of each tin. They all stack inside each other.
Methocarbamol 750 mg street price Take a peek at the matching Biscuit Tin and the other items in our Tinware Collection.
Part of the Chicken Collection
Galvanized steel
Set of three
Large: Dia: 25.5cm, H: 13cm, Capacity: 6 litres
Medium: Dia: 20.5cm, H: 12cm, Capacity: 4 litres
Small: Dia: 19cm, H:10cm, Capacity: 3 litres